This is the season for exterior projects. Springtime came late this year. I am hearing from my painter and contractor friends that their schedules are busy, busy, busy with exterior work. My phone has been ringing too...I love adding colors to enhance people's world.
I'm happy to share with you the process that I go through to select exterior colors.
Speak to the client on the phone to get a sense of their vision and goals. Look at house on Google Maps or Real Estate listing.

Drive around the neighborhood to get a feeling for the neighborhood vibe.

Meet the homeowners at their house. Dig deeper into their vision and goals.

Walk all around the property with the clients, observe roof, pavers, landscaping, furnishing, decking, patio... in other words, everything that will effect the color selection.

Start picking colors based on steps 1. through 4. My goal is to select colors the clients will love, that will reflect their personalities...unique to them but not so far out there that they stick out like a sore thumb (unless of course, they want to...I'm game). Nor do I want the house to be ho hum and blend in looking just like every other house.

I ALWAYS suggest that people paint samples. You may have heard or read this from me already...don't buy a ton of samples. That makes it more confusing! Narrow it down to one or maybe two. If you love it, you are done! If not, use what I call Goldilocks method or tweaking - Is it too dark or too light? Is it too bright or too dull? Is it too much of desired color or too little? You guessed it; we are looking for "IT'S JUST RIGHT"
BONUS TIPS
Whenever possible, select your roofing, stones and other permanent fixtures before picking paint!
Don't select colors based on what you see online or in print. Use the pics as a guide only!
Don't ask too many people for their opinion. The only opinion that counts is yours and your family's.
Don't cheap out on prep or paint. This is one of the scenarios where you generally get what you pay for.
Don't worry...this is quite unique which most likely may conger up an image of the people who live inside...yes, stereotyping but that is what we humans do...we send a message by our colors and style. There is nothing wrong with that. I am just trying to make a point that our homes should reflect ourselves. It is my guess and assumption this family has achieved that. Now I am curious if my mental image matches reality. Maybe when I go back to Safety Harbor, FL, I'll have to try to find out ...I'm imagining they are friendly & open to strangers knocking on their door. :)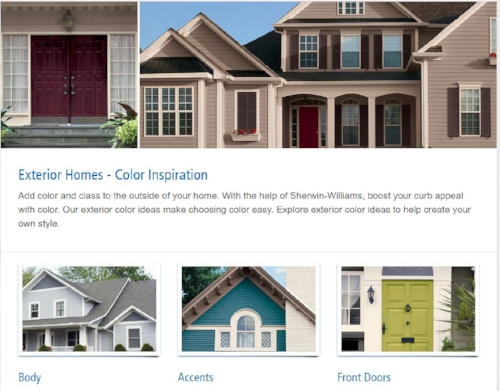 Follow my tried and true steps or give me a call and we can get this painting party started together! 631-922-5405